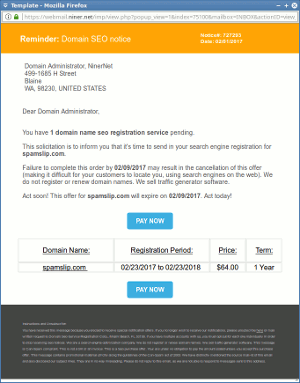 Yet another SEO scam posing as a domain registration renewal notice has been making the rounds. At first we thought it was the same as one we have posted about before — just with a new look — but we've received the old one recently too, so it's not.
As always, anything you receive about your domain that is not from NinerNet Communications is almost certainly a scam, unless you have very recently initiated the purchase of a product or service connected to your domain at the time you receive the email. If you're not sure, please forward it to us and we'll be happy to help you determine its validity.
Please click on the thumbnail to see the scam email full size.